eLiteERP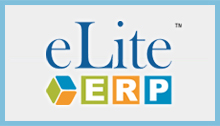 eLiteERP is our generic ERP software solution for small and medium sized enterprises that want to boost business productivity in a small budget. We realize that budget constraints prevent them from buying costly IT solutions, needed to meet the changing needs of their clients. Hence we have come up with an innovative ERP software product, known as eLiteERP which serves the needs of micro and medium sized businesses on technology and cost front.
Key Features
eLiteERP is configurable resource planning software for small business . It streamlines all workflow processes and provides you an interactive interface through, which you can monitor your entire business, at click of buttons. The below mentioned salient features of this ERP software product give you a good idea about how valuable this product can be to your business.
Windows based  ERP software solution
Pre-configured modules  ensure quick and easy implementation
Multi-currency and multi-location features connect you with your customers and  partners, across the globe.
Pre-configured with all regulatory and statutory compliances like Excise, Service Tax, VAT & TDS
Modules   and system hierarchy can be easily scaled to meet  future business requirements
Supports smooth migration of your  legacy applications 
Highly secure user  authorization and management mechanism
Interactive dashboard with real time reporting features. Provision to customize reports according to needs of the end-user
SMS integration for sales, delivery and payment reminders
Powerful and informative reporting system, with facility to export reports to authorized users in any part of world
Functional Modules
eLiteERP has different modules, which fulfill different requirements of your business. These easy -to –install and operate modules can be shaped to function according to your requirements so that you get maximum productivity out of your business. Following are different modules of our product:
Finance - Helps you  manage your  cash and assets, besides taking care of Ledger accounts, bank entries and other finance related activities with facility to  export requisite reports to external agency
Purchase - Provides complete vendor management  solutions and monitors the material purchase process from beginning to end
Inventory - This module helps you track inventories across different locations in your plant or groups of plants. It uses RFID and Bar code tracking technologies for smooth and cost-effective management  of materials
Production - Helps plan production process and monitors  each and every phase, including  product  and scrap movement
Sales and Distribution - Monitors and controls entire sales cycle, which includes generating sales schemes, invoices, delivery reports and maintaining records of commissions paid to agents/brokers, etc
Quality Control - Helps create quality control parameters according requirements and monitors compliance of various processes and materials (finished, raw and under process) to set benchmarks.
System Administration - This module  governs the entire system and defines user roles with access rights so that integrity and security of the system remains intact
Benefits
eLiteERP is a versatile ERP software solution that equips you with set of functionalities, which help your overcome business challenges in cost-effective manner. Following are the benefits of our product:
Makes your business, Micro or small, competitive in the market
Completely integrates all business processes and provides you  a bigger picture at click of buttons
Eliminates unproductive processes to raise your ROI
Streamlines workflow, reduces operational costs  and time
Ensures rapid deployment so that your business is up and running at short notice
Provides quick access to accurate information
Renders transparency across the enterprise, whereby users can access, share and utilize information to take informed decisions
eLiteERP is resourceful ERP software solution, which satisfactorily serves needs of industries like, Hospitality, Mining, Education/Learning, Cement, Manufacturing, Processing and Retail.