eLiteERP Retail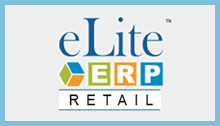 eLiteERP Retail is a complete retail management software designed specifically to match the requirements of Retailers, clothing and apparel stores, Kirana stores, Spa and Salon, Store Franchisee.

The ERP software enables small to large retail business owners to have a seamless and smooth operation. With superior management capability eLiteERP Retail contours the entire scope of activities like Sales Process, Inventory , Supplier/Customer Management, Finance to provide efficient and enhanced management of retail business.

Our Retail Management solution has several features like Inventory Management, Sales & Distribution, Compliance and Accounting. It helps in keeping the inventory levels balanced so as to control under/over stock situation. Various schemes can also be managed with the retail software. User friendly and interactive dashboard of the ERP software allows the end user to have complete overview of the business transactions.
Key Features
Interactive Dashboard
Controlled Inventory Management
Facility of Re – Order level
Provision for Schemes
Easy Accounting
Integration with Weighing Scale
Business Benefits
Better Customer Service and Satisfaction with the help of modules like lschemes and discounts
Higher Operational Ratio and reduced operational cost
Retain customers and manage customer communication
Smooth processing of routine and complex transaction
Inventory management and replacement
Helps in making the right decisions
Support for multi location stores
Facilates barcode generation
Printing option available for all Reports & Vouchers
E-mail facility for all reports. Direct access to e-mail with facility to choose email name from address list
Graphical representation of all reports
All the reports can be exported to Excel and PDF Formats
Quicker calculation methods for sales and purchase bills
Multiple financial year reports